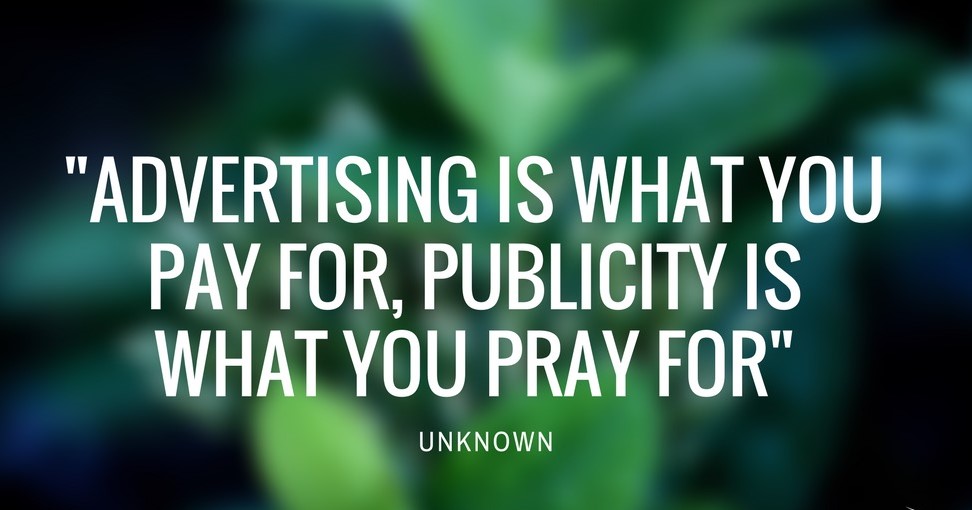 PUBLIC RELATIONS VS ADVERTISING
Ever wondered what the difference between Public Relations and Advertising is?
Many people, even some professionals who should know better, confuse Public Relations with Advertising and do not get the difference between the two. Very few people can explain what people in Public Relations really do or what their job function is.
While PR and Advertising have completely different roles, some businesses even believe that if they do advertising they don't need PR, and vice versa.
As the old saying goes, "Advertising is what you pay for, publicity is what you pray for."
Here is the difference in a nutshell: Advertising is paid media, while public relations is earned media.
When your target audience sees an advertisement, they know it has been bought by a company trying to promote its products or services, with an aim to induce the intended audience to buy.
Public relations people, meanwhile, don't pay for advertisements, they don't create catchy radio jingles and they don't hand out free samples at the mall.  Unlike advertisers, they promote their clients by persuading audiences via unpaid and trusted sources.
PR is the practice of creating a positive image of the client in the eyes of the public. It can be called non-paid publicity earned by the company through its goodwill, word of mouth, etc. The tactics used in public relations to gain media attention include publicity, social media, press conferences, press releases, interviews, crisis management, featured stories, speeches and news releases.
This means that information about a client is provided in an unbiased manner. It appears in the editorial section of the magazine, newspaper, TV station or website, rather than the 'paid media' section where advertising messages appear.  This makes your story have more credibility and a higher level of credibility because consumers are more likely to believe and take note of something independently verified by a trusted third party–such as a written article, rather than an advertisement that has been paid.
With advertising, you tell people how good you or your services are.  With publicity, others do that for you and sing your praises.  Which do you think is more effective?