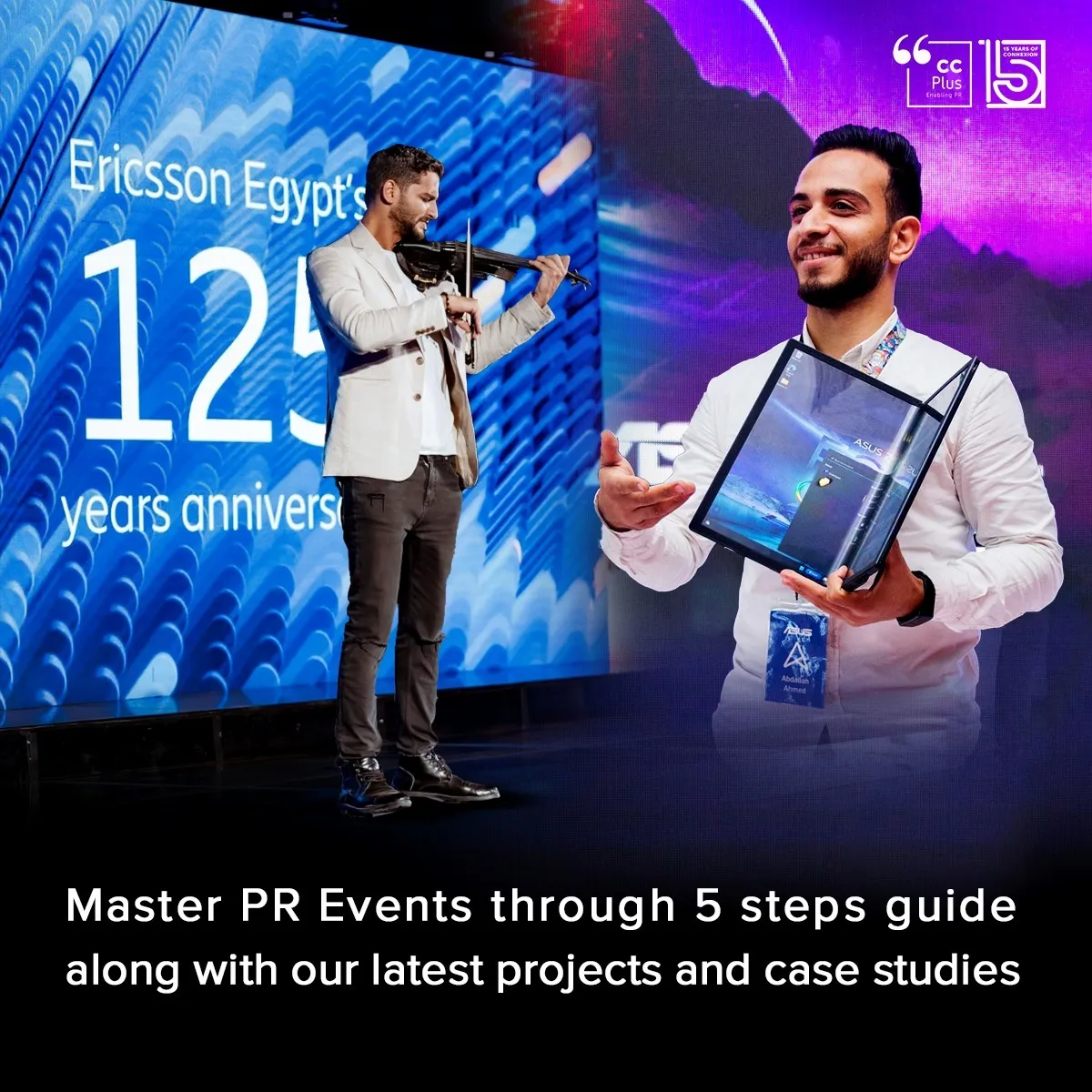 5 Steps to Mastering PR Events: Learn from Our Success Stories
Master PR Events through 5 steps guide along with our latest projects and case studies.
Public relations events are a great way to build relationships and create a memorable experience. Whether it is a small event or a large conference, the process remains the same.
Then there is the creating, planning, and preparation for the event. Juggling everyone's availability time, and whereabouts, picking the right venue, setting up the logistics, and involving the press with media handling and media monitoring can give you a nasty headache. Add to that, the pressure of putting your best foot forward and keeping everyone engaged.
It might sound a little all too overwhelming. But doesn't have to be.
When organizing an event, it's important to do so with consideration for your audience and stakeholders. This ensures the event goes off without a hitch and that everyone leaves happy with what they've learned— or at least entertained by the attendees who will be there.
So, how to make it all work? It's time to equip yourself with these five helpful steps.
Step 1: Figure out your purpose and goals— do they go hand in hand?
The first step to planning an event is to think about what you want to achieve by holding it. That being said, without a goal and purpose, there's no real sense of achievement.
Any PR activity should set sharp, clearly defined goals if you must go deeper to measure the end results. This will help you to identify the key message you want to put across and the purpose of raising awareness.
Similarly, your strategy needs to be in line with the company's objectives for the event.
Everyone sharing the same vision to avoid future conflict shouldn't be ignored.
Step 2: Create a fresh brand message that resonates with your audience
Remember events are inherently social and have the leeway to connect with a target audience—big and small. Even if you don't have any events planned, take the chance to examine every angle, and think about what types of events you would like to create in the future and where you're headed. Then, when it's time for an event or conference, offer your lens to the right people reflecting values and build your message around them keeping them involved throughout the process.
Step 3: Develop a media kit, including collateral and other marketing materials
Promotion is an absolute must-do for a PR event regardless of your company's size or marketing budget. Create a packet of media information and content to reach multiple people at once. This usually includes neatly organized pocket folders with a company's promotional materials, mission statement, and branding information.
They can be distributed to the invited local media and other influencers who are interested in covering the event. Don't forget to have the materials added as a PDF on your website to be shared digitally on all social media pages during the event day and even afterward.
Step 4: Organize a kick-off event that gets people excited about attending
Find an angle for your event to stand out and push people to be there. A kick-off event can get them excited about attending your PR events. If you're hosting an event, think about injecting a buzz-worthy chime to it so that people are intrigued.
At a kick-off event, you will be able to introduce yourself as an expert in your industry, or a way to build relationships with potential attendees who might be present at later events.
The idea here is to get your audience involved in the process of creating connections with other people in your field. This will boost confidence and mutual understanding between you and the potential partners further helping them see how their business can benefit from collaborating with you.
Step 5: Follow up on post-event engagement
Events happen everywhere every day, and yours shouldn't just be another boring event people are going to attend. If you're strong on leaving a mark, build a sense of urgency by showing the audience why they should value you. The key is to maintain consistency by following up along with gaining fresh interest. After all, the event featuring your brand is an ongoing endeavor and shouldn't cease considering the show has only just begun.
Our very own successful PR event stories
Want to perk up your next big PR move? Work with the best PR company for events in Egypt, CC Plus, simply because a successful event is one that gets the results you want, in a timely fashion.
Take a look at some of the below case studies of the many high-profile events we've managed that saw their fruition with the execution of all of the above steps!
Client: ERICSSON
THE SITUATION: In September 2022, Ericsson completed 125 years of successful innovation in Egypt. To celebrate its operational presence, a gala dinner was held in the presence of high-profile governmental representatives, sector leaders, service providers, and specialized media.
THE STRATEGY: CC Plus secured an exclusive opportunity to undertake a large-scale event comprising the launch of an innovation lab. To generate press coverage, together with the media and content departments, we developed content in English and Arabic. As the gala host, we partook in the event setup with stellar planning and management from venue picking to entertainment.
THE IMPACT: We organized a successful event ceremony by delivering a unique and unforgettable evening for every attendee from beginning to end within the allocated budget.
Testimonial snippets from Fida Kibbi, Vice President and Head of Marketing, Communications, and Sustainability and Corporate Responsibility, Ericsson in the MENA:
"Throughout our 16-year partnership, CC Plus has been an invaluable part of the Ericsson brand in Egypt. We consider them part of our team, and together, we have achieved incredible milestones that we are proud to say have been key elements in the country's development. As we have celebrated successes, new management, launches, and stories, CC Plus has been alongside us celebrating every step of the way. Their constant support and unwavering dedication have been instrumental to our success and have allowed us to reach new heights. We are incredibly grateful for their efforts and look forward to continuing our longstanding partnership in the future."
Client: ASUS
THE SITUATION: ASUS is the fastest-growing notebook brand in the Egyptian market and stands as one of the top 3 consumer notebook brands since 2021.
For the launch of 3 new laptops, including ZenBook 17-Fold OLED and the world's first foldable OLED Laptop, CC Plus was briefed to be the key media partner at the event.
THE STRATEGY: The team prepared a strategy for on-ground and complete events management support with full coverage and media monitoring.
THE IMPACT: Our social media engagement remained strong on Instagram, besides an impressive attendance of journalists and invited guests present at the event launch.