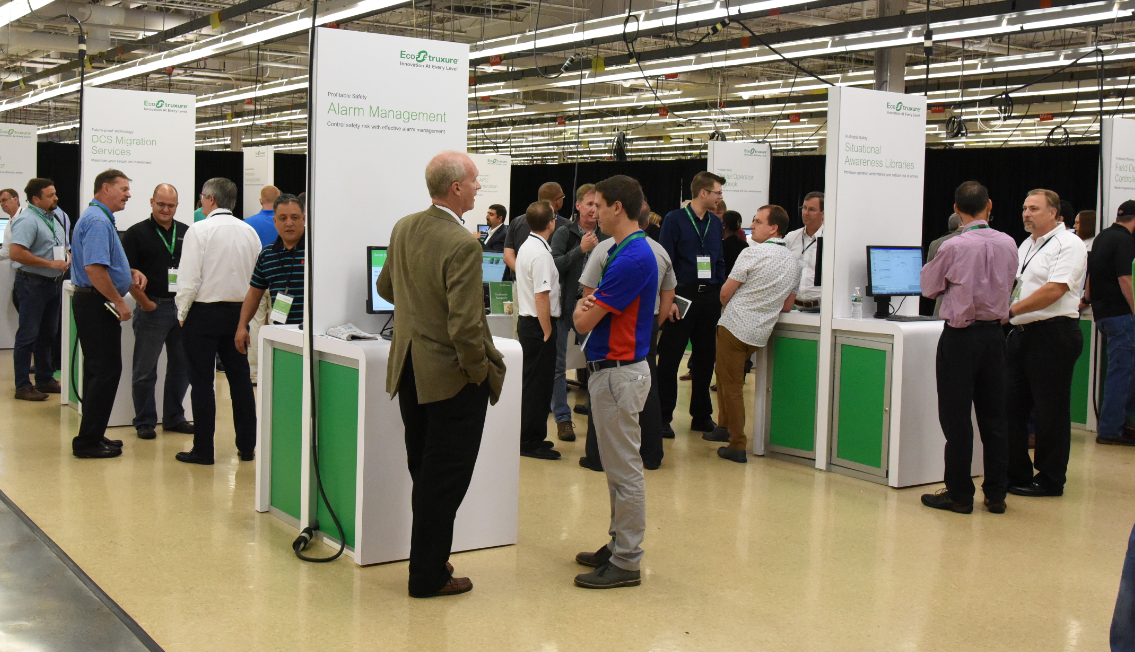 EcoStruxure Foxboro process automation customers to collaborate with peers, industry experts and technologists
·         Attendees to explore the impact of digitization and how Schneider Electric's EcoStruxure Plant architecture and platform extends control, activates the workforce and optimizes assets to start their industrial Profit Engines
·         Industry thought leaders to share vision, future of process automation in the age of IIoT
FOXBORO, Mass., – July 20, 2018 – Schneider Electric, the leader in the digital transformation of energy management and automation, will hold its annual EcoStruxure™ Foxboro user group conference on August 6-9 at the Grand Hyatt hotel in San Antonio, Texas. Hundreds of Schneider Electric customers, industrial automation experts, industry partners, technology experts and executives will come together to address critical industry challenges and discuss the future of process automation, including the impact of digitization in the age of IIoT. Over the course of the event, attendees will learn how to drive measurable real-time profitability improvements, safely. Attendees will explore Schneider Electric's unique, value-focused approach to controlling real-time business variables, which converts process control and automation systems into industrial Profit Engines.
The three-day comprehensive conference program includes more than 50 user-driven industry sessions, technical application workshops and accredited training courses. Each session is designed specifically for customers and partners to share their expertise across the company's broad set of EcoStruxure Foxboro process automation solutions and offers.
"We are living in exciting times for our industry—we've never had as much capability as we do now," said Ted Johnson, DCS principal, Southern Company and chair of Schneider Electric's customer-driven Foxboro Steering Committee. "With all this technology at our disposal, it's sometimes hard to know how to maximize its full value. Schneider Electric's annual Foxboro user group conference allows us to collaborate, explore best practices and experience the modern technologies and models that we can bring directly back to our plants. We always go back to work with better ideas for applying new capabilities safely and securely so we can overcome our critical business challenges and increase profitability."
"Foxboro User Group attendees will learn how to lay a course for success in the age of digitization," said Peter Martin, vice president, Innovation and Marketing, Process Automation, Schneider Electric. "We understand and are creating the future of process automation. At this conference and in their enterprises around the world, we are helping our customers apply the power of real-time control to industrial variables, such as safety, profitability, environment, reliability and security, to help them convert their process automation investments into the Profit Engines of their business."
EcoStruxure is Schneider Electric's open, interoperable, IoT-enabled system architecture and platform. EcoStruxure delivers enhanced value around safety, reliability, efficiency, sustainability, and connectivity for our customers. EcoStruxure leverages advancements in IoT, mobility, sensing, cloud, analytics, and cybersecurity to deliver Innovation at Every Level. This includes Connected Products, Edge Control, and Apps, Analytics & Services. EcoStruxure has been deployed in 480,000+ sites, with the support of 20,000+ system integrators and developers, connecting over 1.6 million assets under management through 40+ digital services.
"The future of automation requires openness," said Martin. "We have been the industry's standard bearer when it comes to open process automation since we launched the Foxboro I/A Series DCS more than 30 years ago. Our current system, the EcoStruxure Foxboro DCS, is built on this legacy. We remain committed to open control and the continuously current philosophy, which means never leaving our customers behind."
User-centric Agenda
The conference will delve into topical industry themes, including:
·         How Digitization Drives Industry to Profit
·         Applied IIoT Innovation and Trends in Industry
·         EcoStruxure Foxboro DCS and Industry Digitization
Detailed sessions will be customized for various segments, including Oil and Gas and Petrochemical; Power; Mining, Metals and Minerals; Pulp and Paper; and Specialty Chemicals. Among others, the conference will feature noteworthy presentations from:
·         Dennis Brandl, founder and chief consultant, BR&L Consulting
·         Keane Cucuel, senior process control analyst, Xcel Energy
·         Avraham Fuchs, control engineer, Polyethylene Plant, Bazan Group
·         Pedro López Gutiérrez, commercial and business development manager, Techint Engineering and Construction
·         Andrew K. Jones, Ph.D., senior engineering fellow, International Paper
·         Gary Freburger, president, Process Automation, Schneider Electric
·         Peter Martin, Ph.D., vice president, Innovation and Marketing, Process Automation, Schneider Electric
"The EcoStruxure Foxboro DCS team has always understood the critical role an activated workforce can have on improving business performance," said Johnson. "Schneider Electric continues to work closely with us to ensure we are taking the best advantage of our Foxboro process automation systems to improve how we control the safety, efficiency, reliability and even the profitability of our assets and operations in real-time. The customer-driven content that will be shared and presented at this year's Foxboro User Group conference is a key part of that empowerment."
Within the event's 21,000-square-foot Innovation Hub, attendees will see hands-on demonstrations of control and safety solutions and service across Schneider Electric's IIoT-enabled EcoStruxure Plant platform. In addition to the EcoStruxure Foxboro DCS, attendees can test drive EcoStruxure Triconex Safety and Critical Control solutions, EcoStruxure Control Advisor, EcoStruxure Profit Advisor, EcoStruxure Maintenance Advisor, the new FXI ® Series 7 Process Gas Chromatograph, EcoStruxure Geo SCADA Expert and process instrumentation, and many other solutions and innovations.
Conference attendees can also visit the Expert Cafe in the Innovation Hub, where the Schneider Electric team will answer questions about a range of topics, including:
·         Customer FIRST and digital services
·         DCS and SIS upgrades
·         New solutions for operator performance
·         Managing risk with safety solutions
·         Cybersecurity