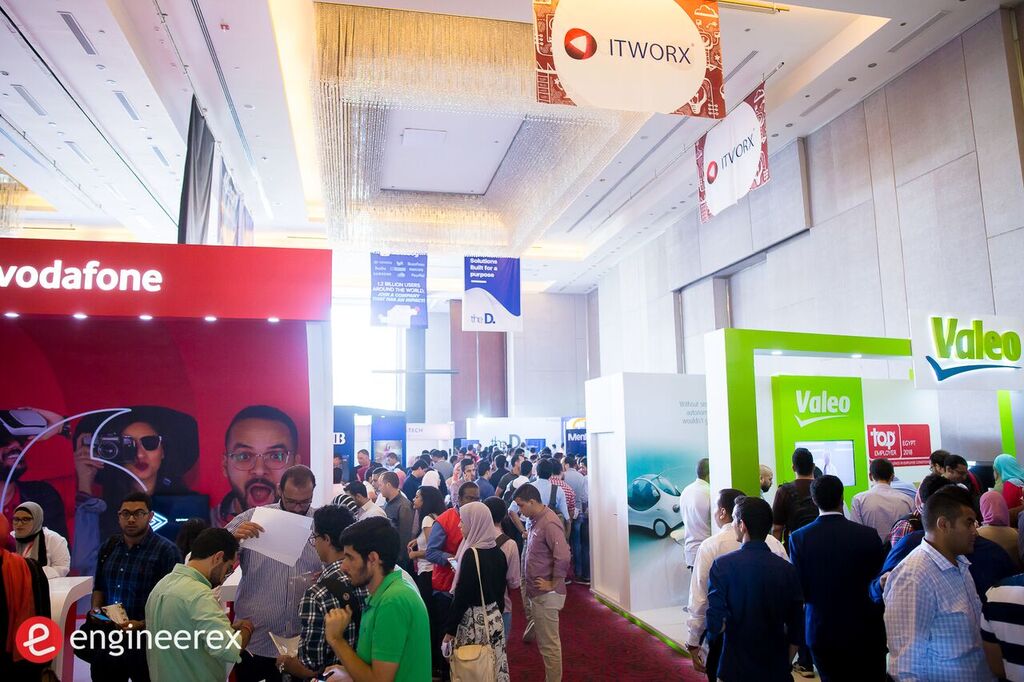 (Cairo) October 21, 2018 – More than 4,000 engineers, 70 of the largest leading firms, hundreds of senior business leaders and industry pioneers were all there at the largest annual engineering gathering – Engineerex Summit 9, on Saturday, October 20th, 2018.
The one-day event aimed to empower and connect engineers and businesses, enhance industry collaboration and promote a connected engineering and technology ecosystem in the country.
With a massive career-zone taking place as part of Engineerex, this round whitenessed more than 800 job interviews carried out during the day and many more planned soon, the gathering is predicted to see around 2,800 job seekers hired by key engineering players in the coming two months.
The summit presented unpatrolled networking and learning opportunities with like-minded individuals. It featured insightful keynote presentations by over 40 high-profile speakers, panel discussions and workshops on the latest technology trends including blockchain, big data, IoT, sustainability, AR/ VR, gamification and other topics.
This year, participating companies included Vodafone, Valeo, Procter and Gamble, Unilever, Orascom Construction, CIB, ITWorx, Schneider Electric, El Sewedy Electric, Hassan Allam Holding, Ezz Steel, Fawry, Dar Al Mimar Engineering, Gama Construction, First Group, ASGC, Link Misr, JTI, Mentor, the D., and many others.
The summit started off with a speech on big data by Vodafone's Head of Strategy and Innovation Alaa Zaher. He spoke about how his company's Datalytics platform harnesses the power of data to optimize business value across various industries. Procter & Gamble's process automation head Andrew Philip touched on disruptive impact of technology on supply chain while Qubix CEO Karim Rafla addressed the power of cargotecture during his speech.
During the event's Tech Leaders' Summit, CIB's Chief Data Office Islam Zekry gave an insightful presentation on data enablement in the banking sector, while Amr ElSehemy of ITWORX tackled virtual reality revolution. Emaar's CIO Moataz Hassouna addressed sustainable smart cities and Orascom Construction's Business Development Team Leader Bassem Henry talked about major opportunities and challenges in Egypt's construction industry during the Build and Design Summit.
Later on the day, Nokia's CTO Mahmoud El-Banna talked to engineers about internet of things, its impact on various industrial sectors and its potential areas of interest including big data analytics, security and the functioning of artificial intelligence and machine learning.
Participants also got the opportunity to attend a number of informative panel discussions on multiple topics including visualization art direction using computer aided reality, conscious tech as well as approaches and challenges of environmental designs.
The summit mobile app made interaction between participants easier than ever, with some 15,000 text messages exchanged through the day.
Engineerex Annual Employer of Choice (EOC) Awards Ceremony took place during the Engineerex closing to honor a group of the most sought-after employers across multiple sectors in recognition of their efforts to become the best companies to work for in their respective industries. 8,000 engineers had been surveyed to assess more than 1,500 employers in terms of career advancement opportunities, workplace environment and other factors.
Awards were presented to the top three winners of each of the 10 engineering and technology sectors. The 1st place awards went to Vodafone in the IT and telecommunications sector, Valeo in software development, Ezz Steel in building materials, Procter & Gamble in the Fast-Moving Consumer Goods (FMCG) sector, ABB in power and automation, BAG in the automotive industry, Schlumberger in oil and gas, Orascom Construction in contracting, Emaar in real estate development and Dar Elhandasah in construction consultancy.
Since its inception in 2011, Engineerex has helped over 42,000 engineers find the right career opportunities, network with market leaders and be part of inspiring talks and hackathons.