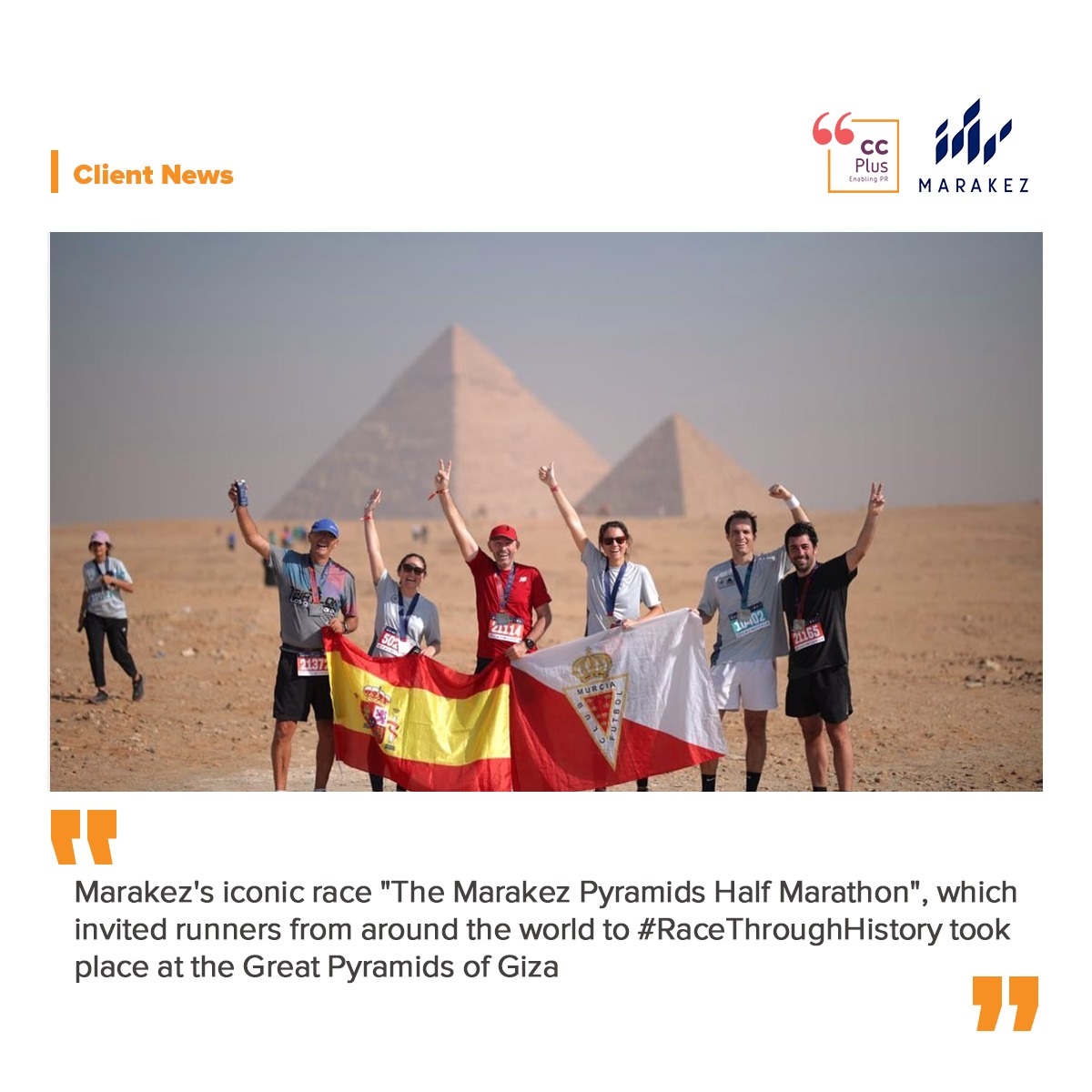 MARAKEZ Partners with "The TriFactory" for their annual event at the most iconic of locations: the Great Pyramids of Giza
Marakez always aims to drive unique sports activities and social experiences
Cairo,10th of December 2022
MARAKEZ, the leading mixed-use developer in Egypt, has partnered with "The TriFactory" to sponsor one of the most iconic sports events in Egypt for the upcoming 2 years: 2022 – 2023, with the MARAKEZ Pyramids Half Marathon was successfully held on December 10th according to plan.
Organized under the auspices of President Abdelfattah El-Sisi this year, the Pyramids Half Marathon took thousands of runners racing near the Giza Pyramids, showcasing the three legendary pyramids of Pharaohs Khufu, Khafre, and Menkaure, as well as the six lesser ones built for their queens. Gathering both old and young, the half marathon featured varying routes from a 5K flat course, to a 10K and 21K run.
Basil Ramzy, Marakez CEO and The TriFactory founder & CEO Ayman Hakky completed signing the collaboration in a ceremony organized at one of MARAKEZ's many iconic projects which span different parts of Cairo, Tanta and Mansoura and cover different types of mixed-use facilities.
The MARAKEZ Pyramids Half Marathon comes under the auspices of the Ministry of Youth and Sports and the Ministry of Tourism, bringing together different entities to provide world-class organization and attract runners from all over the world to participate in the iconic "Race Through History". MARAKEZ has also invited all its employees to join the race.
Egypt's Minister of Youth and Sports Dr. Dr. Ashraf Sobhy, said: "The MARAKEZ Pyramids Half Marathon is an event we are most proud of, showcasing Egyptian grand historic sites and our ability to organize world-class sports events."
Ahmed Issa, Minister of Tourism and Antiquities, said "The Pyramids Half Marathon is an optimum opportunity to show the world another face of Egypt that is not often highlighted in the media. With both foreign and local athletes participating, this is in fact a great meeting of civilizations to promote the values of sports and sustainable living."
Marakez CEO Basil Ramzy said: "
"At MARAKEZ, we always try to make sports and wellness an integral part of our developments. We are very proud to sponsor this run at the Great Pyramids of Giza – supported by the Ministries of Sports and Tourism. It fits our strategy of bringing people together in places that add value to the community."
The TriFactory founder & CEO Hakky said: "With MARAKEZ's collaboration and sponsorship, this year's Pyramids Half Marathon was another massive success. Last year, the marathon attracted 4,000 participants and saw even more hype this year with renowned athletes showing up for the run. The project is closest to our hearts as it gathers health and sports with an unparalleled historic setting. We're proud and thrilled to have this support from one of Egypt's largest mixed-use developers, particularly as we share a vision to observe environmental protection in every aspect of the race."
MARAKEZ is a strong advocate of health, fitness, and sports, sponsoring several Egyptian athletes, including several Olympians, empowering youth, and integrating health and sports-focused amenities in its projects. Recently, Marakez has also supported climate adventurer Ali Abdo through his Guinness World Record "Ride to COP27" which toured Egyptian governorate to arrive at the climate summit, raising awareness around clean energy transport and environmental issues.
About MARAKEZ
MARAKEZ is one of the largest mixed-use developers in Egypt with a portfolio of projects marked by being one of the highest recurring revenue profiles in the country. Anchored by its flagship Mall of Arabia in West Cairo, MARAKEZ projects include office spaces, residential and commercial developments. These include AEON, which includes the first residential towers in 6th October as well as District Five, one of East Cairo's most renowned mixed-use developments, in addition to Mall of Tanta which opened in 2019, Town Center in 2020, and Mall of Mansoura that is set to open in 2023.
About The TriFactory:
The TriFactory is Egypt's leading sports event management company, specialising in mass participation sports events. Founded in 2015, the company has grown to become the leading supplier of endurance sports to the Egyptian market. The TriFactory is a fully licensed sports event organiser under the auspices of the Ministry of Youth & Sport, processing more than 15,000 race registrations per annum, and welcoming athletes of all ages and abilities, from complete newcomers to professional athletes.
​
The TriFactory's portfolio of sports events includes our flagship multi-sport event, the Somabay Endurance Festival, road running races such as the Pyramids Half Marathon, El Gouna Half Marathon, and the Madinaty Half Marathon, trail runs including Trailmaster Wadi Degla, team-based challenges like the Relay Run, and our signature Yes Yoga Day yoga events.
​
The TriFactory is proud to cooperate with a variety of public partners including the Ministry of Youth & Sport, Ministry of Tourism & Antiquities, Ministry of Environment, the Egyptian Athletics Federation, Cycling Federation, and Modern Pentathlon Federation, as well as Egyptian Paralympic Committee, to deliver events across the country at fantastic destinations.