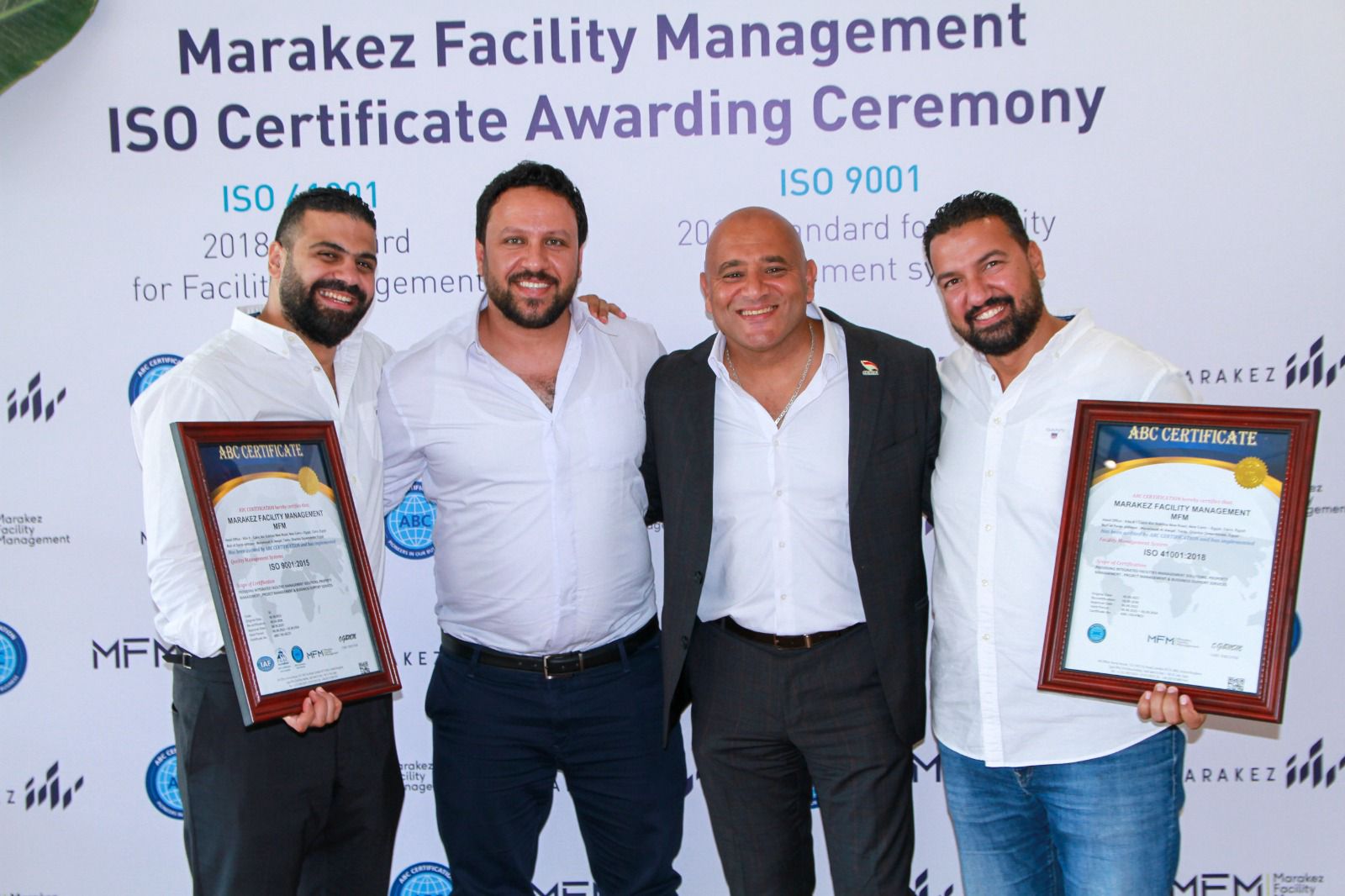 Leading real estate developer pioneers MARAKEZ Facility Management, ensuring premium service quality and safety across a diverse portfolio.
Cairo, October 2023 – MARAKEZ, the award-winning mixed-use real estate developer, is proud to announce the establishment of its own world-class Facility Management (FM) Company, MARAKEZ Facility Management (MFM). This strategic move demonstrates MARAKEZ's unwavering commitment to delivering top-notch services to its community and enhancing the safety and security of its spaces. The initiative is poised to set new benchmarks for excellence and innovation in the real estate industry.
MARAKEZ FM is the one the first facility Management companies in Egypt to receive the ISO 41001:2018 standard for Facility Management and it also operates based on and ISO 9001:2015 standard for Quality Management systems. These internationally recognized certifications underscore MARAKEZ FM's commitment to efficiency, consistency, and continuous improvement. By implementing ISO procedures, MARAKEZ FM minimizes the risk of human errors, thereby enhancing productivity and ensuring that customers enjoy consistent and superior service quality.
With its sterling reputation for developing iconic mixed-use projects that seamlessly blend commercial, residential, and entertainment spaces, MARAKEZ has taken this groundbreaking step to ensure these spaces remain impeccably maintained and serviced. MARAKEZ FM optimizes asset function and compliance, fostering safe environments, curbing repair costs, minimizing downtime, safeguarding reputation, enhancing eco-safety, and boosting property value. MARAKEZ FM is dedicated to maintaining MARAKEZ's diverse portfolio, using a highly technically efficient and cost-effective approach, thus bringing many benefits, including satisfied customers, management, and employees.
Basil Ramzy, CEO of MARAKEZ, commented, "At MARAKEZ, our goal is to truly add value to people's lives and create meaningful connections to change how people perceive their spaces and feel "The Power of Place". We create elevated life experiences by bringing together a wealth of know-how, and a strong sense of initiative. MARAKEZ Facility Management offers a value proposition and highest quality services for our customers to be assured that they are in expert hands, and managed by the highest industry standards"
The inaugural ISO certificate has been awarded to Mall of Tanta, MARAKEZ's flagship first mall outside the capital's borders. This achievement marks a significant milestone as Mall of Tanta becomes the pioneer in MARAKEZ's portfolio to receive the ISO certification, setting the gold standard for all future MARAKEZ FM operations. Mall of Tanta is the model for other MARAKEZ FM business units operating under the MARAKEZ umbrella.
MARAKEZ FM is headed by Eng. Mohamed Abo Taleb who brings over 30 years of extensive experience in the FM field. MARAKEZ FM offers 24/7 services for tenants, residents, and visitors in their mixed-use developments. From repairs and landscaping to security and safety services, MARAKEZ FM's integrated approach ensures property value enhancement, regulatory compliance, and a secure environment. Beyond physical upkeep, MARAKEZ FM prioritizes safety through industrial health, civil defense, and evacuation control services, demonstrating MARAKEZ FM's dedication to providing a holistic and safe environment for all its stakeholders.
As MARAKEZ continues to lead the way in transforming urban landscapes with its innovative mixed-use developments, the introduction of MARAKEZ Facility Management solidifies the company's position as a trendsetter and a pioneer in service excellence and safety. With ISO certifications endorsing its procedures and a commitment to enhancing community living, MARAKEZ once again raises the bar for quality in the real estate industry.