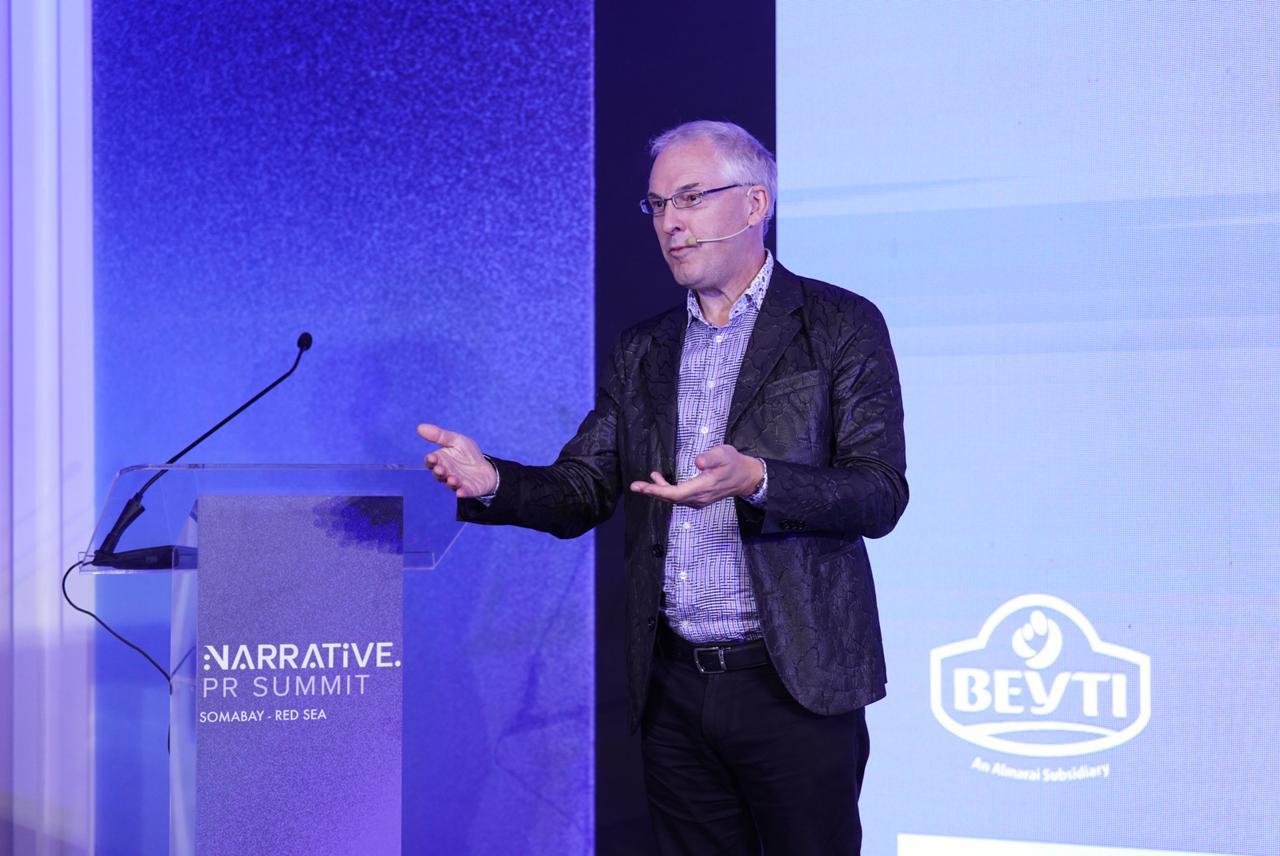 Somabay, Red Sea – October 9, 2023 – Beyti, an Almarai subsidiary and a leading producer of dairy and juice products in Egypt, proudly participated in the highly anticipated Narrative PR Summit 2023. Held under the auspices of the Ministry of Tourism and Antiquities and the Egyptian Tourism Authority, the summit took place on October 9th, 2023, at the picturesque Somabay in the Red Sea. Beyti's active involvement in the exceptional summit underscores its steadfast commitment to aligning its efforts with the nation's development strategies and promoting sustainable growth.
During the summit, Mark Wyllie, CEO of Beyti, delivered a compelling talk on the topic of "Fostering Egypt's Leadership on the Manufacturing & Exports Map." Wyllie shared invaluable insights and outlined a comprehensive roadmap to unlock Egypt's potential in manufacturing and exporting, with a particular focus on the food manufacturing industry, to put Egypt on the map for exporting and manufacturing. These advices included: focusing on delivering  consistent quality and customer service, taking advantage of government incentives, giving the highest priority to localization and most importantly, to work on positively influencing Egypt's Narrative internationally.
Emphasizing the significance of the Narrative PR Summit and Beyti's commitment to supporting initiatives that drive Egypt forward, Wyllie stated, "I am  honored to have participated in this distinguished summit, alongside visionary leaders who hold the power to shape a brighter future for Egypt. Beyti, committed to playing a central role in our community, is eager to strengthen the efforts of both the private and public sectors in advancing progress and development. Through our involvement in the Narrative PR Summit, we've had the privilege of witnessing inspiring stories that contribute to the forging of a robust national identity, enhancing Egypt's global reputation, and positioning it as a top destination for tourism and investment."
Lamia Kamel, Founder of the Narrative PR Summit and the former Assistant Minister of Tourism and Antiquities for Promotion, commented: "Since its inception, Narrative PR Summit has evolved into a platform where experts, leaders, and decision-makers come together to share their valuable experiences and insightful ideas. As Beyti is renowned for its pivotal role in the Egyptian market and its significant contributions to multiple initiatives, we are delighted to partner with them and look forward to furthering this collaboration as we jointly strive to realize the summit's vision of reasserting Egypt's prominence on the global stage in the domains of investment, tourism, and the arts."
Founded in 2016 by Lamia Kamel, the Narrative PR Summit is Egypt's inaugural international public relations forum. This significant annual event is dedicated to elevating the nation's worldwide standing and attracting investments through the facilitation of partnerships and collaborations between domestic and international entities.
This year's edition brought together an impressive lineup of renowned speakers and leaders from various domains, spanning investment, business, tourism, and arts. The event delved into a range of high-priority topics aligning with the Egyptian government's agenda, such as nation branding, fortifying the tourism sector, and seamlessly blending Egypt's rich heritage with its modern landscape.