Ericsson and Ooredoo Qatar will enable multi-gigabit speeds, capacity, and exceptional mobile broadband speeds with millimeter wave.
Ericsson will oversee the seamless operation and optimization of Ooredoo Qatar's network with a team of highly qualified specialists.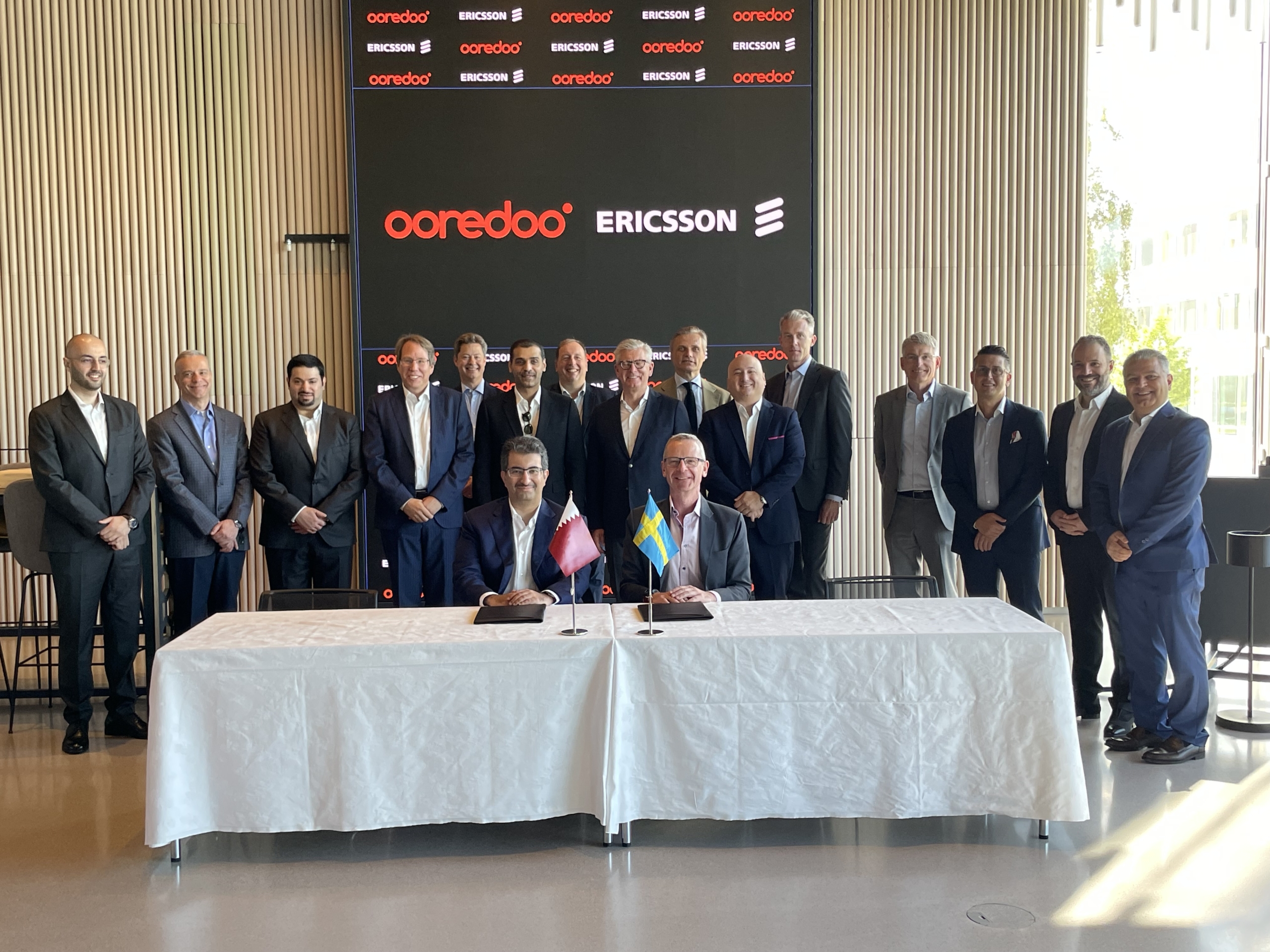 Ericsson (NASDAQ: ERIC) and Ooredoo Qatar have signed a five-year extension of their 5G deal during Ooredoo Qatar's visit to Ericsson's headquarters in Kista, Sweden to increase collaboration on radio access network (RAN) products and services.  
The extension to the partnership was signed by Sheikh Ali Bin Jabor Al Thani, Chief Executive Officer, Ooredoo Qatar and Kevin Murphy, Vice President and Head of Ericsson Levant Countries and Global Customer Unit Ooredoo Group at Ericsson Middle East and Africa– in the presence of Ooredoo's Deputy Group CEO, Sheikh Mohammed Bin Abdulla Al Thani, President and Chief Executive Officer of Ericsson Group, Börje Ekholm and a delegation of senior executives from Ooredoo Group, Ooredoo Qatar and Ericsson.
Under the renewed contract, Ericsson will deliver cutting-edge 5G RAN solutions and services that enable faster data speeds, allowing Ooredoo Qatar to explore new 5G use cases and connectivity opportunities for subscribers, to leverage the potential of Internet of Things (IoT) applications, and exploring emerging technologies such as artificial intelligence (AI) and machine learning (ML) for optimizing network performance and user experience.
Ericsson will also continue supplying indoor small cell solutions (Ericsson Radio Dot System), ensuring seamless connection throughout buildings, and providing impressive connectivity experiences indoors in Qatar.
Additionally, Ericsson will enhance Ooredoo Qatar's 5G customer experiences with the introduction of additional spectrum such as millimeter wave (mmWave). Thanks to Ericsson's extended range software, mmWave will allow the service provider to deliver exceptional speeds over multi-kilometer distances.
Leveraging advanced technologies and intelligent algorithms, Ooredoo Qatar will also make use of Ericsson Network IQ Statistics (ENIQ), working together with Ericsson Network Management (ENM), to gain comprehensive insights into network performance, traffic patterns, congestion hotspots, and incident detection in real-time, leading to better resource management and overall enhancement to customer experience.
Sheikh Ali Bin Jabor Al Thani, Chief Executive Officer, Ooredoo Qatar, says: "Through our extended partnership with Ericsson, we are poised to redefine the 5G landscape, propelling Qatar's digital revolution forward in line with Qatar National Vision 2030. By embracing Ericsson's cutting-edge technologies, we can continue upgrading our network capabilities, deliver exceptional digital offerings and explore innovative use cases that open doors to exciting new business opportunities. Together, we're shaping the future of connectivity and empowering our customers like never before."
As the need for IoT continues to grow, Ericsson and Ooredoo Qatar will collaborate on implementing optimized RAN deployments such as improved coverage and capacity, efficient power consumption, network slicing capabilities, and robust security measures. This will allow Ooredoo Qatar to handle various IoT applications seamlessly across its network.
Kevin Murphy, Vice President and Head of Ericsson Levant Countries and Global Customer Unit Ooredoo Group, Ericsson Middle East and Africa says: "Ericsson's best-in-class 5G technologies will provide Ooredoo Qatar with unparalleled speeds and capacity, enabling the deployment of advanced applications and services that will enhance the customer experience and drive Qatar's digital transformation journey.  Our extended partnership with Ooredoo Qatar demonstrates our shared vision and commitment to driving innovation and connectivity in Qatar in line with Qatar Vision 2030."
As part of the five-year contract, Ericsson will also provide support and maintenance services by a team of highly qualified specialists, ensuring the network and optimized and operates efficiently. This partnership represents a significant milestone for both Ericsson and Ooredoo Qatar as they strive to advance connectivity in Qatar, delivering exceptional communication experiences for individuals and enterprises.
ABOUT ERICSSON:
Ericsson enables communications service providers and enterprises to capture the full value of connectivity. The company's portfolio spans the following business areas: Networks, Cloud Software and Services, Enterprise Wireless Solutions, Global Communications Platforms, and Technologies and New Businesses. It is designed to help our customers go digital, increase efficiency and find new revenue streams. Ericsson's innovation investments have delivered the benefits of mobility and mobile broadband to billions of people globally. Ericsson stock is listed on Nasdaq Stockholm and on Nasdaq New York. www.ericsson.com