Chairman of SCZONE Witnesses Allocation Contract
Between Elsewedy Industrial Development and Mienta the French Brand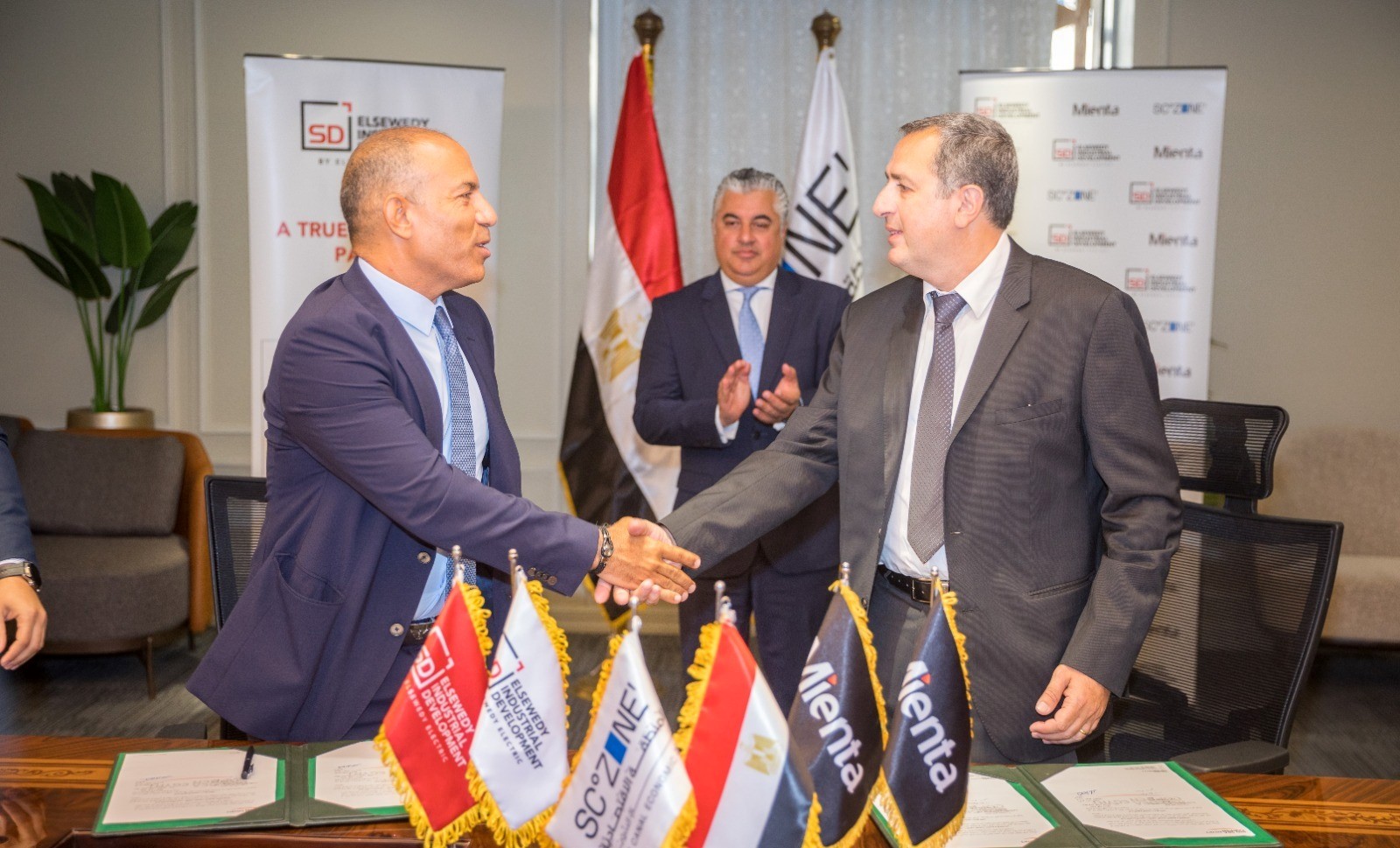 Waleid Gamal El-Dien: "The presence of international brands in the SCZONE underscores the confidence that foreign investors have in Egypt's favorable investment climate."
Mohamed AlKammah: "We are proud to continue attracting foreign investments as we remain dedicated to supporting the development of SCZONE through our 'Industria Sokhna' and 'Sokhna 360' projects."
Nicolas Bouris: "The success of our previous ventures in Egypt has motivated us to embark on the establishment of our third factory in SCZONE."
New Administrative Capital, Monday, August 1st, 2023: Mr. Waleid Gamal El-Dien, the Chairman of the General Authority for the Suez Canal Economic Zone (SCZONE), has witnessed the signing ceremony for an allocation contract between Elsewedy Industrial Development (SD), a subsidiary of ELSEWEDY ELECTRIC (EE), and Mienta the French brand. The contract pertains to the establishment of Mienta's third factory and warehouse, which will cover a total area of 20,000 square meters in the "Industria Sokhna" project.
Eng. Mohamed AlKammah, CEO, Elsewedy Industrial Development (SD), together with, Nicolas Bouris, Managing Director, Mienta, have signed the agreement, in the presence of Mr. Mohamed Hussein, General Manager, Mienta. Endeavoring to become an export hub in the MENA region, Mienta will invest up to USD 5 million to establish its third factory for small electric home appliances and a warehouse in 2024.
Waleid Gamal El-Dien, Chairman of the General Authority for the Suez Canal Economic Zone, expressed his delight with the unceasing efforts of Elsewedy Industrial Development (SD) to attract foreign investments within SCZONE. This highlights the trust that foreign investors have in Egypt's favorable investment environment.
Eng. Mohamed AlKammah – CEO, Elsewedy Industrial Development (SD), stated: "It's our pleasure to form a partnership with one of the leading companies that have consistently shown success in the Egyptian market. As part of our ongoing dedication to supporting manufacturers, we have been working diligently to develop and operate sustainable and integrated industrial cities across a total of nine industrial cities in Egypt and Africa."
Underscoring SD's commitment to supporting the state's plan to develop and promote SCOZNE, AlKammah elaborated: "Elsewedy Industrial Development is developing its mega project in the region, known as 'SOKHNA360'. This expansive integrated industrial city covers a notable area of 10 million square meters and provides a comprehensive range of smart services and essential facilities. The project is strategically divided into an industrial zone, a logistics zone, a residential zone, social activities, a university, and a technical academy. This remarkable project offers investors the opportunity to capitalize on the commercial advantages of its prime location, which serves as a major gateway for global trade. As a result, it attracts both local and foreign investments, bolstered by the various investment incentives provided by the area."
Nicolas Bouris, Managing Director of Mienta, commented: "We are thrilled to announce our latest venture in the 'Industria Sokhna' in SCZONE, as we embark on the establishment of our third factory in Egypt, building upon the achievements of our previous successful projects. This initiative aligns perfectly with our objective to position ourselves as a key player in the thriving maritime center of the entire region. Coinciding with the French brand's tenth-anniversary celebration in Egypt this year, this project marks a significant milestone in our journey towards further growth and expansion."
He added: "The factory is projected to achieve its maximum capacity of 650,000 appliances by 2025. Additionally, the site encompasses a warehouse equipped with storage capabilities for more than 200 containers. The presence of 'Industria Sokhna' serves as a remarkable opportunity for foreign investors, such as Mienta, as it provides us with a distinct advantage in terms of expedited delivery dates for our neighboring markets."
It is worth mentioning that the establishment of Mienta's new factory will significantly expand its product range to include 60 diverse items, encompassing kitchen and cooking utensils, as well as household appliances. Previously, local production was limited to only 35 products, while the rest had to be imported. Moreover, the inauguration of the new factory will create 250 employment opportunities for Egyptian youth.
-End-
About Elsewedy Industrial Development (SD):
Elsewedy Industrial Development (SD), a subsidiary of ELSEWEDY ELECTRIC (SWDY.CA) listed on the Egyptian Stock Exchange (EGX), is a specialized company in developing integrated industrial zones in the region. Committed to sustainable development, the company efficiently serve the community within the framework of its ethical responsibility relying on its extensive manufacturing experience to build integrated and sustainable industrial cities. The main services provided by Elsewedy Industrial Development include master planning, consulting services, infrastructure works, construction management, engineering guidance, and designs. SD also provides its investors with an integrated package of advanced services for industrial zones, necessary facilities, distinctive infrastructure, and comprehensive manufacturing facilities. The company owns a vast land portfolio in Egypt and Africa, which is the largest land portfolio owned by an industrial development company in Egypt. Elsewedy Industrial Development's operations in Africa include Elsewedy Industrial City (EIC) in Tanzania, which covers an area of 2.2 million square meters. Elsewedy Industrial Development's projects in the Egyptian market include its latest project "SOKHNA360", which is the first smart integrated industrial city in the region covering an area of 10 million square meters, in addition to 10th of Ramadan industrial zone, Industria Sokhna, Industria Sadat, Industria New Alamein, Industria Asher, and Al Oula. For more information, please visit https://www.elsewedydevelopment.com/
About Mienta:
Mienta is a French brand of small electric home appliances that takes the work out of housework. Its mission is to provide products that are practical, easy to use, store and maintain because less fuss is a plus. Its range includes food preparation, cooking, breakfast, and housework. Its French heritage also means chic designs, top of the line technology and guaranteed durability. For more information, please visit our website, www.mienta.fr