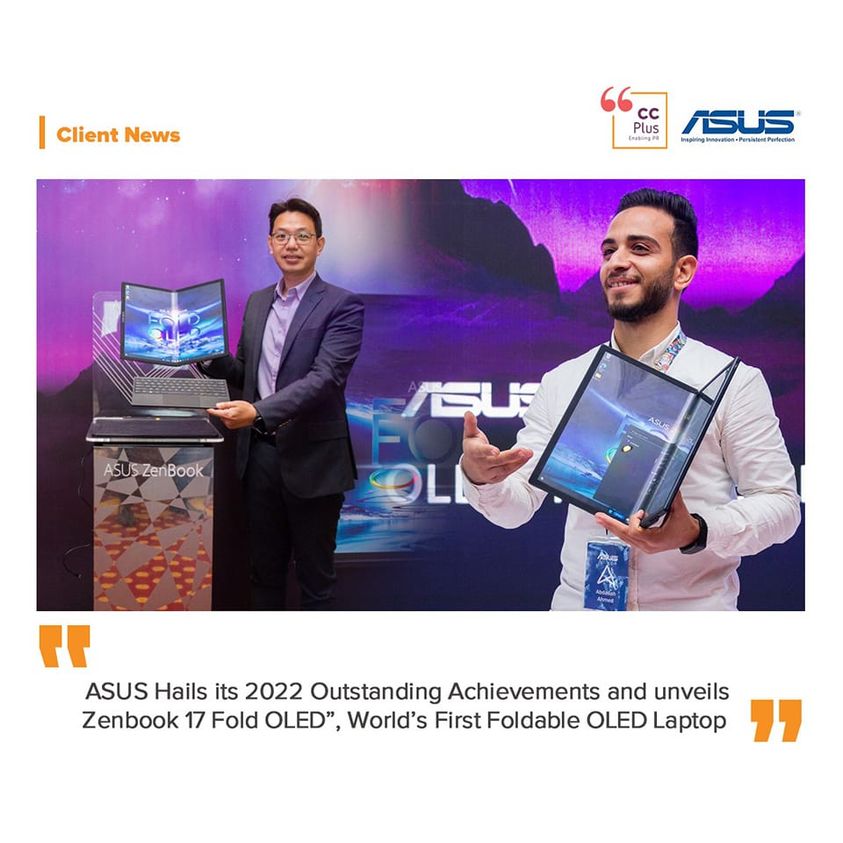 Key points:
2022 is a celebration of a year-long unwavering effort to avail first-hand, convenient user experience that was mirrored in unprecedented successes.
+5% YoY share in the overall market and +7% YoY in the gaming market share, as per 2022 results.
Top 3 in both gaming notebook and consumer notebook throughout 2022.
Fastest growing notebook brand in Egypt market since coming back to the market in 2019. Continued to be Top 3 consumer notebook brand since Q3 2021 till date.
Indispensable experience: Zenbook 17 Fold OLED is a versatile foldable 17.3 inches OLED device that comes in 6 modes that suits any type of your daily life.
Unprecedented entertainment: Immersive audio and video experience with 4:3 17.3" 2.5K OLED Dolby Vision PANTONE ® Validated touchscreen; Harman Kardon quad-speaker Dolby Atmos ® audio.
Despite the intensive competition, ASUS, as the fastest growth notebook brand in the Egyptian market and one of the top 3 consumer notebook brands since 2021 Q3, successfully clinched this year an overall market share of +5% YoY, while confidentially snatching a +7% share of the booming gaming market. With the fast and stable growth, ASUS Egypt promises its clients to capitalize on its skyrocketing success in 2022 to target becoming the solid top 3 in consumer notebook and becoming the 1st in gaming laptop in 2023.
During the event, ASUS unearthed its disruptive Zenbook 17 Fold OLED, the world's first 17.3 inches foldable OLED laptop that was long waited for in the technology scene. ASUS Zenbook 17 Fold OLED, which is bound to be launched in Egypt in January 2023, comes with 6 different modes in one device, for you to eliminate the need to compromise when working in different environments- in the office, at home, while traveling or when relaxing. With the breathtaking touchable OLED screen which folds down to a compact 12.5" size that is smaller than a sheet of photocopier paper, availing an unprecedented easy-carrying experience for ASUS users.
Stemming from a partnership between ASUS and Intel, Zenbook introduces effective solutions with its 12th Gen Intel® Core™ i7 processor that caters for users' desired mix of a super elegant and powerful device. The 17 Fold is a response to users' desires to achieve the ideal balance between mobility and productivity and can fit for all scenarios for users to embark on it in their 24/7 lifestyles, thanks to the modern minimalist design from ASUS engineers and designers.
ASUS's past exquisite achievements and the reveal of Zenbook 17 Fold OLED highlight ASUS' vision to become the most admired innovative leading technology enterprise in Egypt. Such success comes not only from ASUS's unwavering commitment to leading tech position in the Egyptian market , but also from ASUS's ambitions to be involved into this market. In 2022, ASUS not only has a coverage rate of more than 85% in Cairo and Alexandria regions, but is also actively conducting development investigations in other regions.
Furtehrmore, creator is one of the key group that ASUS is focusing on in this young, culturally rich Egypt market. ASUS's brand-new reveal of Vivobook Pro X last month has created a big buzz among Egypt's creator community and grasped first special places of first-class creators and designers. During the launch, ASUS cooperated with more than 20 local creators, fully demonstrating the importance it attaches to creator community. ASUS will continue this spirit next year, encouraging creators not to limit their own innovative ideas and create with ASUS together. Just like the company's image, ASUS always develops innovative ideas in products and expects users to fully express their creative ideas through it and show their individuality and diversity to the world.
In terms of the company's long-term plans, ASUS will continue to build the image of innovation tech leadership in Egypt market, with more devotion into local market with premium image and add-on value and stand with those dare to follow their passion and diversity to give a powerful and indispensable experience.